Benefits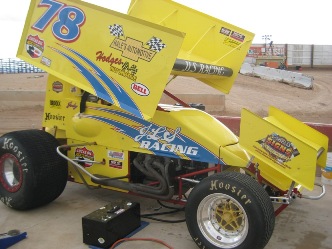 Ask any engine builder whether you should be preheating your engine and the answer will be the same: a resounding "Yes!" It's been said that firing a cold engine puts more wear on it than an entire heat race. Think about that the next time you're in the push off lane to "put heat in your motor"…
Heating your oil with a salamander or heating pad helps, but that's only half of the equation. By heating your cooling system, the entire engine is brought to race-ready temp before you fire it up. That means all tolerances to which the engine was carefully built are achieved before it's even started.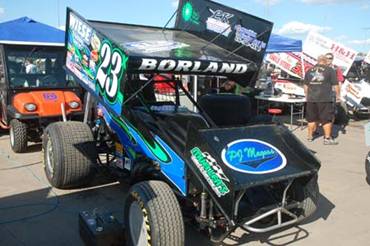 Performance
Using a 2,000 watt heater and 10gpm pump, the Hot Shot brings a cold engine up to operating temperature in 60-90 minutes and easily maintains engine temp between events at the track.
The entire engine and cooling system are heated – this means the block & heads and all internals, and everything else attached to them. This includes the radiator & lines, injection, oil pan, oil pump, motor plate etc, etc.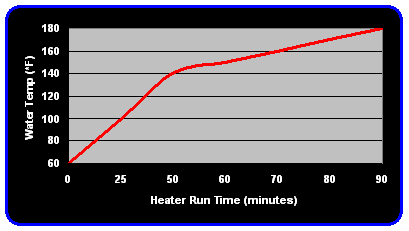 Here is data from an actual test on a 410 sprint car engine. The Hot Shot brought this stone-cold engine from 60 degrees to 140 in less than an hour, and to a nice hot 180 in 90 minutes. The heater was powered by a small 3500w generator.
Easy Hook Up
Uses a standard 120v power supply and can be powered with a generator as small as 3500 running watts. Comes complete with quick-disconnects for your engine.
More Engine Hookup Info Here...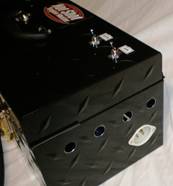 Simple & Durable
The Hot Shot uses an all-cast iron design that is both efficient & durable. With an integrated temp gauge and separate pump & heater circuits, it has just what you need to heat your engine. To keep the price reasonable, we left out non-essential options like lighted panels, pressure gauges, thermostats etc. The Hot Shot does one thing, and does it well: Heat your engine. The unit measures 20x10x9 and weighs 31 lbs.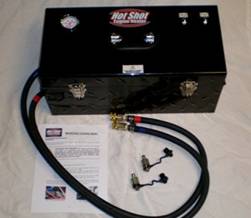 Easy to Order
We encourage you to support your local speed shop and buy the Hot Shot there. If they don't carry it, we can direct you to somebody who does.
You can also purchase online via our website (Order button at the top of this page).
Do not hesitate to shoot us an email or call with any questions.
Apex Racing, LLC
58 N. Hudson St.
Coldwater, MI 49036
517-462-5555